You are Watching What Just Happened??! with Fred Savage
What Just Happened??! with Fred Savage
An aftershow for the sci-fi show, The Flare (which doesnt actually exist).
TV Status: Returning Series
Release: 2019
Dexter
The Nineties
The Nineties
A TV documentary miniseries chronicling the trends, pop culture, and important events that took place from 1990 to 1999.
Hang Ups
Hang Ups
After the collapse of his previous group therapy practice, Richard is no longer able to conduct the traditional 50-minute sessions most therapists have with their patients. Instead, hes …
Status: Returning Series
Close to the Enemy
Close to the Enemy
A British intelligence officer has to ensure that a captured German scientist helps the British develop jet aircraft.
Paranormal Survivor
Paranormal Survivor
Real people share the terrifing and supernatural stories of their experience.
Battlechefs
Eps8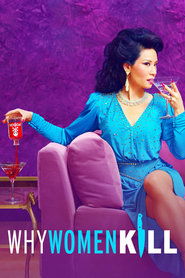 Why Women Kill
Bitten
Diggstown
Diggstown
DIGGSTOWN follows Marcie Diggs (Vinessa Antoine, Being Erica, Heartland), a star corporate lawyer who reconsiders her priorities after her beloved aunt commits suicide following a malicious…
Presidents at War
Eps13
Reef Break
Reef Break
Cat Chambers is a thief-turned-fixer for the governor of a stunning and seductive Pacific Island paradise. Impulsive, reckless, and irresistible, Cat's less-than-perfect past gives her an instinctive gift for understanding…
Status: Returning Series
Undercover Boss US
Undercover Boss US
Bosses of chain businesses go undercover to their own stores in various locations and various jobs around the store and interact with the employees. Depending on the employees impression, …